06 May 2022
Morning 28 Apr, the Thu Thiem bridge connecting Thu Duc City and central district 1 is inaugurated, after 7 years of construction now successfully shortening the distance between the 2 cities.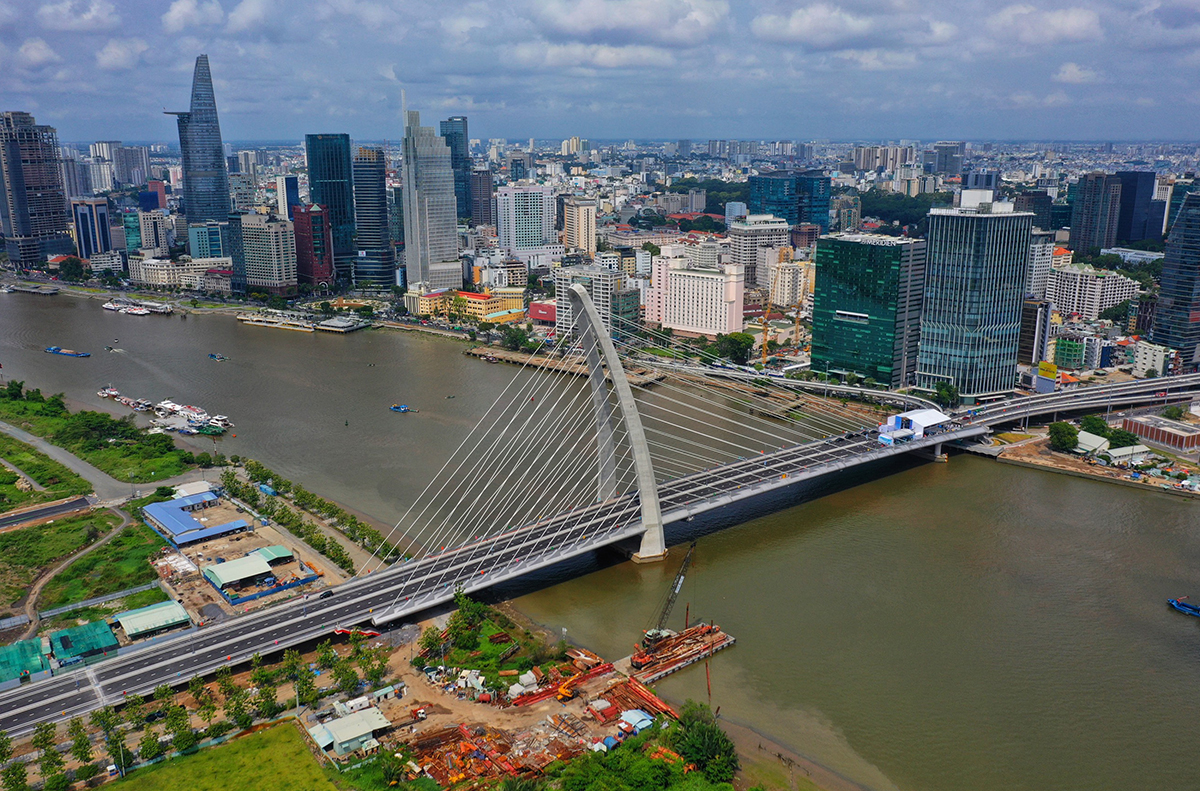 The top sight of Thu Thiem 2 Bridge, Morning 28 Apr. Picture by Quynh Tran
The Thu Thiem 2 bridge when full functions will connect the Thu Thiem new urban area with all the central districts, easing the traffic and elevating the development of this golden peninsula.
Being the first and most methodologically planned urban area of Vietnam, the Thu Thiem area is supported with a comprehensive infrastructure network. It thus witnesses changes everyday. Geographically it is very adjacent to the central areas, separated only by the Saigon river. Once this separation is solved, Thu Thiem can truly step up to its capacity of a financial – commercial – multi service centre in the proximity to the old administration office and economic driving regions, the port networks and South Saigon urban area.
Invested with a budget of roughly 3,000 billion dongs, the Thu Thiem 2 bridge is 1.5km long an built with 6 lanes. The bridge starts at the junction of Ton Duc Thang and Le Duan in district 1, and connects to Crescent Boulevard (R1) at the Thu Thiem urban area in Thu Duc City. It is a cable-stayed design with the main tower resembles a dragon at 113 meters high. It functions as a symbolic greeting gate into the Thu Thiem new urban area.
The functioning Thu Thiem 2 bridge will accomplish the main spine of the city transport system, connecting Ho Chi Minh City to the East Southern part of Vietnam. Together with infrastructure and planning accomplishments on the way, it really warms up the real estate value of Thu Thiem and the nearby areas with famed developers.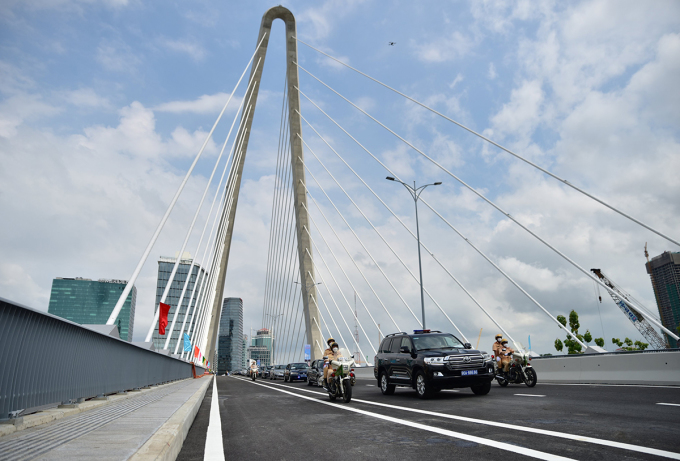 Traffic at Thu Thiem 2 Bridge at the inauguration. Picture by Quynh Tran
The property trading floors and the brokerage agencies in this area and online forums are getting hits with its keywords, not only from local investors but mostly international ones. According to market researchers, the apartment projects in this area witness unprecedented growth. The developers invest in a network of 5 stars utilities and full on services as droves of new high-end residents coming to this area. This truly makes the Thu Thiem apartment market all the more heated.
It is easily predicted that real estate prices in the Thu Thiem new urban area and its surroundings will go up dramatically once the Thu Thiem 2 bridge is in full operation. In this picture, the apartment market surely grows quickly in value. The accomplishment of infrastructure will have a positive impact and speed up the recovery of the market after the pandemic.